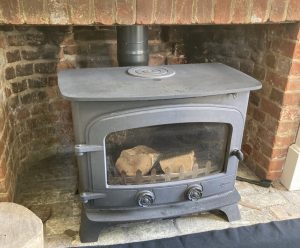 Here is something of a monster stove, the rather large Yeoman County 13 Kw Multi-Fuel Stove. This example is in a large house in Wimbish and as you might expect, heat heats a similarly large room. As you can see from the design of this large model, it is exactly the same as the much smaller Yeoman Exmoor, with both having the round Tudor rose primary air controls.I'm not really sure why Yeoman decided to opt for a different model name for this stove by calling it the Yeoman Exmoor 13Kw instead? I'm sure that is the usual practice for other stove manufacturers. In terms of design the stove is something of a hybrid with both a contemporary and traditional look to it. Indeed, the High top versions of both the Exmoor and County models look more traditional than they do contemporary.
Yeoman Stoves are now a part of the Stovax and Gazco Heating Group, the following can be found on their website:
The Stovax Heating Group has been dedicated to the design and manufacture of exceptional stoves, fires and fireplaces for 38 years. Today, we are one of the UK's leading stove and fireplace manufacturers, exporting to over 25 countries worldwide.
Across our wood burning, multi-fuel, gas and electric products, we strive to create the future of fire. Each of our heating products is the result of decades of expert craftsmanship and class-leading innovation – representing the pinnacle of British engineering.
The Stovax Heating Group is proud to be part of the NIBE Stoves group, a market-leading provider of domestic heating products.
Based in Exeter, England, Stovax Ltd was established in 1981 to design, manufacture and distribute wood burning stoves and fireside accessories. By 1988, the sister company Gazco Ltd was formed to develop and produce gas and electric versions of Stovax stoves.
Today, Stovax and Gazco continue to work very closely together. Each company has constantly developed its product range such that the combined businesses have grown to become one of Europe's leading manufacturers of stoves, fireplaces and fires, with exports to countries worldwide.
In 2006, Stovax Ltd purchased Yeoman, a long established manufacturer of wood burning stoves that specialised in more rustic, rural styling. The company continues to produce a distinctive and separate range of wood burning, multi-fuel, gas and electric stoves and fires under the Yeoman brand.
Stovax is also the UK and Republic of Ireland distributor for a number of additional fireplaces and stove brands including Dovre, Lotus, Nordpeis & Varde. You can find your nearest retailer in the UK and the Republic of Ireland by using the Find a Retailer tool on this website. For information on distributors in other countries, please contact exportsales@stovax.com.