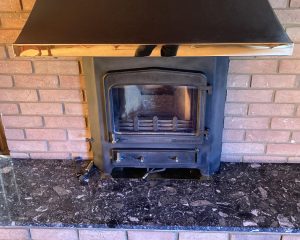 This is something I don't see a lot, a Woodwarm insert stove. I sweep a lot of Woodwarm appliances, as can be seen from my previous blogs. The Woodwarm freestanding Fireview is a common stove and I also sweep a number of examples of the Woodwarm freestanding Double-Sided Fireview, but I have never come across a Woodwarm Fireview Insert stove before. This example that I sweep at an address in Sewards End is rather a tidy stove that warms a rather large room effectively.
Not knowing much about Woodwarm Stoves I have done a little internet research and found that like many stove manufactures they are based in the West Country:
The Workshop,
Wheatcroft Farm,
Cullompton,
Exeter,
Devon EX15 1RA
0188435806
The manufactures are actually called; Metal Developments Ltd and it is their range of stoves that are termed Woodwarm. The company make a range of stoves, notably the: Phenix, Fireview, Wildwood, Foxfire, and the Kalido Gas.
The companies blurb on their website stresses a concern for environmental issues: Here at Woodwarm we have dedicated over 30 years of production to our customers and very experienced dealers and fitters to tell us what you want from your home fire. We pride ourselves on the ability to respond to both customer needs and government legislations while using cutting edge technology to ensure reliability and workmanship throughout. We strongly believe that it is thanks to our immensely hard-working sales outlets that we have become a market leader in Clean Burning Wood and Multi Fuel heating.
We are very lucky to be located in the beautiful Devon countryside. Environmental issues are always foremost in our minds; we cannot afford to ignore the evidence of global warming. Wood is a sustainable fuel boasting the fact that it also carbon neutral, for this reason we have developed the Wildwood range, a dedicated wood burner range that does not drain the planet of its rich resources. "Please see our environmental policy for our commitments to the future"
Why Woodwarm? We are not the cheapest fire on the market this we are the first to admit, we cannot compete with the mass-produced meaningless market, and so because of this we won't. Some of our fires are still in use some 30 years on, what else do you have that's still working at 30 years old? We know how to keep the glass clean, even overnight, we know how to get the maximum use from your fuel, we are unrivalled in our boiler, canopy, fuel, colour, leg, handles, plinth, pedestal, options because we are hand-made here in the UK. You will buy a house for comfort and as an investment, your choice in a stove should be the same.