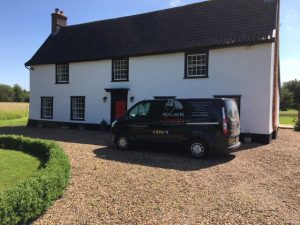 Something light and different for the New Year in this week's blog! Not a stove, unusual or otherwise this week for this week's blog, but something of a change. I thought this week I would post a photo of one of my favourite sweeps an address at Farley Green in Suffolk. I love this location; the fantastic old farmhouse is set in beautiful rolling Suffolk countryside. The farmhouse, which was modernized in Georgian times, is consequently punctuated by a large number of beautiful sash windows. The house is therefore very light and airy inside as all these Georgian windows just let the light flood in. The house has a fantastic comfortable, warm and homely feel to it, a very happy place!
The house has two Dean Forge stoves to sweep that were fitted a while ago by Cut Maple Stoves and Fireplaces. Both the stoves are Dean Forge Croft Clearburn Silimline 5's, so they are nice and easy to work on and service and can be effectively swept by using a large Viper. The customers were very pleased with the service they received from Cut Maple Stoves, they use both the stoves throughout the winter and believe that they had the best advice available in choosing them. They say that they would recommend Cut Maple Stoves and Fireplaces to anyone.
Cut Maple Stoves have a showroom at New England near Sturmer/Haverhill which is well worth a visit for anyone thinking of having a stove. The show room is also fantastic for ideas, for example they have some wonderfully modern metal log containers that are like artworks in themselves. They are also great for buying stove parts and accessories, these include heat resistant stove paint, ceramic rope of various dimensions and cement and fireboard for cutting bricks. As well as selling and installing stoves, they can install liners and cowls.
The show rooms are very attractive and well laid out and the staff are very helpful. There address and contact details are as follows:
Cut Maple Stove & Fire Company,
Sturmer Road,
New England,
Halstead CO9 4BB
Telephone: 01440 788788
Email: cutmaple@fireplacesetc.co.uk
Website: http://www.fireplacesetc.co.uk