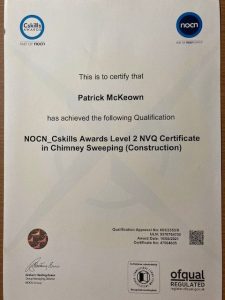 I have recently successfully completed the NVQ in Chimney Sweeping, this had long been delayed by the Covid lockdown conditions. The NVQ was split into two main sections, a knowledge section, and a practical sweeping assessment. I had completed the knowledge section sometime ago, prior to lockdown, but what with all the covid restrictions I was only able to complete the practical sweeping assessment in the spring.
The knowledge section included a number of specific areas of learning, including: health and safety, the different types of chimney testing and how to complete chimney testing, the principles of combustion, chimney sweeping techniques and tools, the sweeping process, the different types of chimney terminals, the different types of flues and chimneys, Building Regulations (Approved Document J), fuel types and carbon monoxide, Lining old chimneys, New technical information and information on the industry in general. All in all, quite a comprehensive list of learning out comes I think you will agree.
The practical sweeping assessment involved me completing a normal day's work whilst being followed around by an assessor who watched and filmed everything I did. I had selected a day where I had a large variety of different kinds of work, to give the best impression of my ability. This included a number of different kinds of wood-burning stoves, some of which were lined and some of which were not, open fires and a cooking range. Given the variety of work I was also able to use a variety of different sweeping techniques, including manual sweeping with brush and rods, power sweeping using click rods and a drill and Viper sweeping (rods on a reel).
I think it is reassuring for all my customers to know that I have undertaken this course of learning and I have successfully completed this qualification.