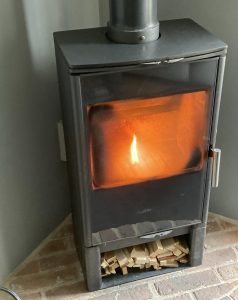 I recently swept this Meg 4.5Kw Contemporary Multi-Fuel Stove at an address in Littlebury – Had to ask the customer what type of stove it was as I had not come across this make before. She informed me that it was a Meg Stove, but that she had very little paperwork for the installation as she had not had the stove installed having only moved into the address last year. She was very happy with the stove's operation stating that it more than adequately heated the room even though it is rather diminutive in size! The customer stated that she only burnt wood on the stove, despite it being manufactured as a multi-fuel stove. A google search revealed that Meg Stoves was founded in 2009 with a brief to combine contemporary design with precision engineering.
The company is based in Hooton, on the South Wirral / Cheshire border, and all manufacturing takes place at the Meg factory. Many manufacturers claim their products are made in the UK, when in fact they are largely produced overseas and only the final assembly stage takes part on these shores. At Meg Stoves sheet steel is laser cut, folded, welded, finished and painted all under one roof, nothing is subcontracted out so there is complete control from start to finish.
All Meg multi-fuel stoves burn with an efficiency of at least 80% and burning wood means you are using a carbon neutral energy supply.  Amazingly low emissions of less than 0.2% CO, five times better than even the strict European Standard, also mean that the whole range is Defra Approved for burning wood and smokeless fuels in smoke-controlled areas. Giant ash bins to ensure infrequent emptying and ultra-resilient stainless-steel grates are two more of the benefits offered, put simply; only a Meg fire will do.