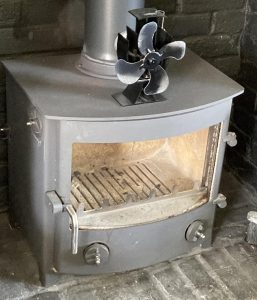 I do sweep a lot of these Town and Country stoves, this example which I recently swept in Hundon is the Town & Country Thornton Dale Multi-Fuel Stove. The most common models that I come across being the Little Thurlow, the Bransdale and the Thornton Dale. I don't think they are the chimney sweeps favourite stove to sweep, as they have to be largely dismantled to access the flue. This is not so bad, but if the vermiculite bricks are cracked, as they frequently are, the stove is difficult to reassemble. This said, all the customers who I sweep for who have Town & Country stoves swear by them for their fuel efficiency and heat output. In fact, I have not come across a customer who has a Town & Country stove who is displeased with their performance. Well each to there own!!!
Town and Country Fires is a family run business based in Pickering on the edge of the North Yorkshire Moors. Once farmers, the Thurlow family took the big decision to diversify and as a consequence started the stove business in 1977.
Gaining a wealth of experience over the years and using a combination of old and new techniques has led to the company developing and manufacturing some of the best, energy efficient, solid fuel and wood burning stoves in the world.
Town & Country stoves
1 Enterprise Way
Thornton Road Industrial Estate,
Pickering, North Yorkshire. YO18 7NA
Telephone: 01751 474 803
Fax: 01751 475 205