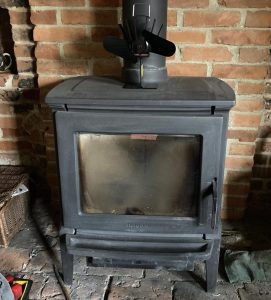 On my rounds I see very few of these Hergom Stoves, I can think of only two other examples of this make of stove which are both different models and one of which is a large combination stove. This example is one of their more contemporary models, the Hergom E-30M Wood-Burning Stove. The customer states that it is a very efficient stove and throws out plenty of heat, warming the room satisfactorily on even the coldest of winter days. This stove is fitted in what is a very old thatched cottage, with plenty of exposed beams and an old inglenook fire place, and although it is a very contemporary stove, it is strangely not out of place in this setting.
Although the name Hergom would suggest a Scandinavian stove manufacturer, these stoves are actually made in Sabtander in Spain. The companies advertising blurb tells us that: Hergom's appliances are well designed, efficient with a sophisticated double combustion system. Through there innovative internal structure Hergom stoves provide maximum heat and fuel performance with minimal emissions of unburnt particles into the atmosphere. Hergom is one of Europe's largest and most established manufacturers of cast iron stoves and cookers. Their stoves are forged its state the art foundry in Santander in northern Spain, with Hergom owning their own foundry they use the finest cast iron as the primary material in their production stoves, they understand cast iron and its resilience as a material for hearth and fireplace products. Durability, unique forming and thermal initia give cast products the edge in the market.
The company manufacture a range of different models of stove including the E20, E30, E40, the Mnachester, the Crafytsbury, the Glance, the Mallorca, the Sere Inset and the Laredo.
Industrias Hergóm
S.L. Soto de la Marina,
Santander,
Cantabria
Spain
+34 942 587 000