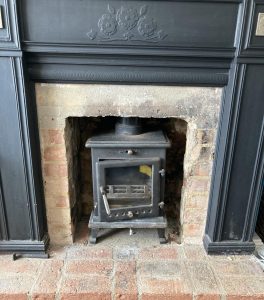 I do see a great deal of these Ekol Crystal 5 Multi-Fuel Stoves around the local area, they do seem to be a very popular low budget stove and the customers all report them working very well. So, it's probably comes as no surprise that there are so many of them around the local area. They are in addition rather easy to work on, coming apart and back together quite nicely, which is a real bonus for the busy chimney sweep! They clearly have a rather more traditional appearance than some of the other stoves in the Ekol range.
Ekol are a British Stove manufacturer based in Wareham, Dorset. They make a large range of stove models including the adept range, Apple Pie range, Clarity models 5, 8, 12, Clarity Vision and Vision Bio and Clarity Double-Sided, and the Crystal 5, 8, 12 and Inset Plus. They also make the Satfire range of stoves ST-X4, ST-X5, ST-X Wide, ST1 Vision, ST2, ST3, and ST4. The Ekol website gives the following information:
Developed from our desire to create truly environmentally friendly Woodburning stoves which are beautiful yet subtly understated, and where form is in perfect harmony with function – Function which is so advanced that smoke seems to literally disappear as if by magic. Superior in quality of materials and construction, and all this at a price which does not break the bank, we believe that few people can afford to be without one.
Ekol stoves have been developed without compromise, ensuring the best burning results and each lovingly hand built from individually cast components by the most skilled of foundry craftsmen. Ekol stoves are built to last, to perform as intended every time, and with minimal maintenance.
Our stoves come complete with a 5 Year Guarantee (Crystal and Clarity ranges) or 10 Year Guarantee (Adept range).
Ekol Woodburners have passed with flying colours, the stringent 'DEFRA' testing – They are Ultra-Clean Burning and a positive leap forwards environmentally.
For playing your part in saving the planet, you will be instantly rewarded with a mesmerising flame effect unique to Ekol Stove Technology – Then of course you will notice your heating bills all but disappear.
The Ekol range of stoves are MULTIFUEL and capable of burning any Smokeless coal.
Ekol Stoves
Station Works
Johns Road
Wareham
Dorset
BH20 4BG
Tel: 01929 555 211
Enquiries: enquiries@defrastoves.com