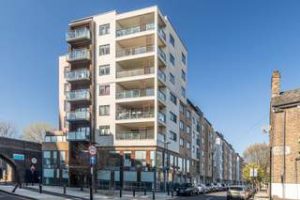 Yes, Last week we returned to work in London when we swept the biomass boiler flue at the Arches Apartment Block in Childers Street Deptford. This apartment complex is rather large, occupying as it does half the length of one side of Childers Street which is quite a long road. The Gilles biomass boiler that provides the heating and hot water for the complex is rather sizeable at 55Kw rating, as can be seen in the photographs. The biomass boiler is situated in a basement boiler room below a seven story section of the complex, so as you can imagine it is rather tall flue, running as it does from the basement up seven stories and out on to the roof. The flue itself is integral to the building, i.e. running inside the structure of the block as opposed to along the outside. In total this meant that there was over 30 Meters of flue that required sweeping. The system operates on wood pellets which are fed into the boiler from two large hoppers. These hoppers are in turn filled with pellets via access hatches at street level.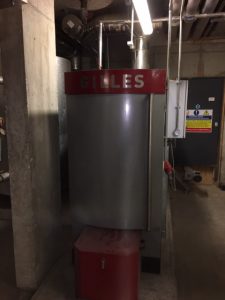 The agent for the management company told me before I commenced the work that the system was 10 years old. However, the system had only been run for the first 5 years of its life and had lain dormant and unused for the past 5 years. In all this time the flue had never been swept. The management company were having the chimney swept in preparation for recommissioning the boiler prior to its reuse in the coming winter. Surprisingly, considering the amount of time had passed without sweeping, the flue was not particularly dirty. Although a reasonable quantity of soot was removed from the flue, it was not consistent with the amount of time the system had been operational and dormant. As expected, though the soot was very fine in nature. The management company who are new to looking after the complex have wisely determined to have the flue swept annually.
Gilles Biomass Heating are a West Country Company based at Unit 215B Holme Lacy Road, Hereford HR2 6BQ 01432513777 office@gilles-biomassheating.co.uk
https://www.gilles-biomassheating.co.uk/contact/ – They have been developing biomass boiler systems over the last 25 years.