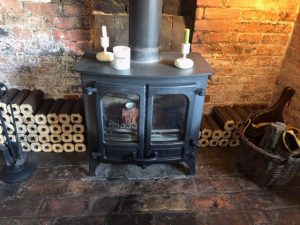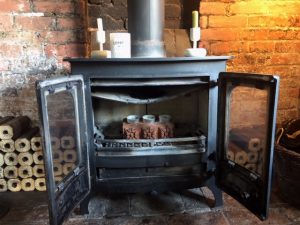 I recently swept the flue of this Charnwood Island II Stove at an address in Clavering. As can be seen from the photo's the baffle was very distorted and warped due to over firing the stove. I did explain to the customer how this might have occurred and suggested never filling the appliance more than two thirds full of fuel at any one time whilst burning the stove. He was more than glad of the advice and did admit to over stocking the stove at times. After some little persuasion I was able to remove the baffle to access the flue mouth and sweep the liner.
The sweeping done I ordered a new Baffle from Fire Spares in Barnsley who do a sizeable discount for Members of the Guild of Master Chimney Sweeps. Fire Spares are a very efficient company, if they have the item sought for on the shelf it is dispatched immediately and received by the customer the following day. In this instance I was able to return to the customers address a couple of days later and fit the new baffle having disposed of the old baffle for the customer.
Fire Spares
Unit 4 Park Spring,
Springvale Road,
Grimethorpe,
Barnsley,
South Yorkshire, S72 7BQ
T: 01226 715100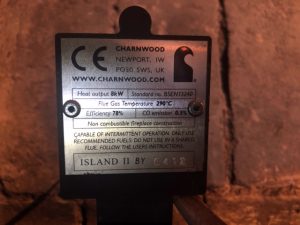 Charnwood Stoves or more correctly, A J Wells & Sons Ltd, was founded in 1972 and is a privately owned, family controlled, British Company that specializes in the design of high-quality wood burning and multi-fuel stoves. The company commenced production at Niton on the Isle of Wight and are still based in the island today. They have a large range of different stoves and are the oldest existing manufacturers of stoves in the UK. Rather handily all their stoves have a pull up identity tag usually located to the rear of the stove at the top left-hand side, or below the stove at the front on the right hand side. This identity tag as can be seen in the photograph, provides details of the make, model and serial number of the appliance. Customers of mine who have Charnwood stoves are all very complimentary citing the stoves robustness and efficiency.
Charnwood Stoves
Bishops Way,
NewportIsle of Wight
PO30 5WS
T: 01983 537777
Technical : 01983 537799