A tale from close to home this week when I removed a bird's nest from a flue I was seeping for an M Design stove in a house in Radwinter. It's always the way, last job of the day on a Saturday, after a busy day sweeping and you encounter a birds nest up a flue! Fortunately this one was only made of moss dry grass and small twigs and I was able to break it up easily using 10mm power sweeping rods and a bullet strimmer sweeping head. The only problem was that all the broken up nest material caught in the flue mouth were the primary control vent was situated (you can just see it at the top of the photograph of the interior of the stove. This meant that I had to reach up into the bottom of the flue and drag out the nest material past the flue vent. Rather a dirty job, but someone has to do it! Where's my apprentice Claire when I need her!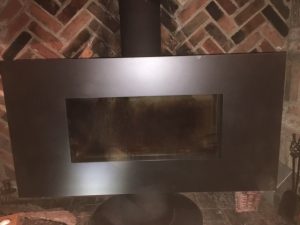 I don't see many of these M Design Wood-Burning stoves, looking at their website they seem to be bespoke and rather expensive. Their website provides a short history of the company:
"In 1993 Bart Goovaerts opened a smart showroom, 1000 m² in size, for ornamental fireplaces and inset stoves where customers looking for high quality products could find all the main brands.
In addition to being a managing director who always looks to the future and thanks to the fact he studied automation and then architecture, Bart Goovaerts is someone who aims for perfection in the area of design and technology and, above all, in the combustion processes in inset and designer stoves.
In 2001 he started developing his own stoves. After a year of looking for the best way to do things and trying things out, his passion finally led to the development of a stove with a revolutionary combustion system, which had never been seen before, combined with an optimized air cleaning system.
In the same year, 2002, he also founded M-Design BVBA in order to market and sell the stoves he invented. His years of experience in installing and selling inset stoves and open fireplaces had provided him with the skills and experience necessary to design a perfect stove himself, the two most important criteria for which are the design itself and ease of use. And so the first LUNA models were created, shortly followed by the VENUS inset stoves.
In 2005 an improved version of the Luna was produced: the LUNA GOLD Collection.
At Batibouw 2007 the new Luna gas-fired models were M-Design's biggest hit of the fair, attracting all the attention and, hardly surprisingly, outselling all the other stoves.
Since then M-Design has continued to grow, thanks to serious investment in marketing, among other things. In 2013 the company's success increased further when it introduced the brand new DIAMOND collection: ecological, gas- and wood-fired stoves that have a bright future when it comes to sustainability, that are energy efficient and easy to use and that go hand in hand with nature".