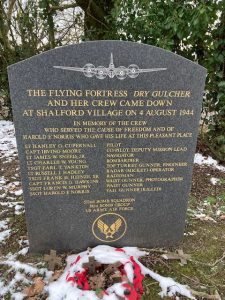 Here is something that i thought was really interesting. Whilst working in Shalford just this week, I saw this memorial to B17 Flying Fortress 'Dry Gulcher' which crash close to the church in Shalford on 4th August 1944. I found it a fascinating piece of local history and thought some of my customers might think the same? B17 Flying Fortress 'Dry Gulcher' was initially stationed at Bassingbourn from 27th February 1944 but was transferred to 532nd Bomb Squadron of the 381st Bomb Group at nearby Ridgewell on 27th April 1944. The tail marking for the 381st Bomb Group was a white L in a black triangle.
On 4th August 1944 Dry Gulcher took off with other Flying Fortresses from Ridgewell to bomb the German secret rocket testing site at Peenemunde. All the aircraft taking part in the raid had a full bomb load on takeoff. However, shortly after takeoff and whilst getting into formation over Shalford Dry Gulcher developed engine trouble and one of its engines caught fire, causing the plane to start to lose altitude. Quite quickly the left wing of the plane became engulfed in flames and the fire started to spread to the rest of the aircraft. Most of the crew were able to escape the stricken aircraft and safely parachute to the ground. However, the tail gunner Harry Norris was trapped in his turret and was killed when the plane exploded just a few hundred feet from the ground. The aircraft control cables had broken due to the fire and had trapped rear gunner Harry Norris in the plane. When his body was found later on the ground, it was wrapped in the control cables. The explosion was so large, it damaged the nearby Shalford hall. Harold Norris is buried at the American War Cemetery at Madingly Road, Cambridge.
The surviving crew members were: Pilot: Capt George Hanley Cuppernall, Co-pilot: Capt Irving Moore, Navigator: Russ Radley, Bombardier: Chas Young, Flight engineer/top turret gunner: Earl Yankton, Radio Operator: Frank Heinze, Obs-Capt: Francis Hawkins, Waist gunner: Loren Murphy, Waist gunner: Lt Jim Sneed.