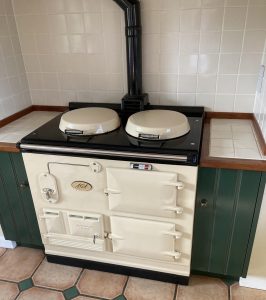 It is surprising to find that many people don't think that their Aga cooking ranges require sweeping. I suppose that it is not that surprising when I meet people all the time that think their wood-burning stove doesn't require sweeping. I hear comments such as "it's a sealed system so doesn't require sweeping", or "It's lined and is a modern installation" . . .  Like that makes any difference! I find it is an up-hill battle educating some people around the risks arising from not sweeping the chimneys of their appliances. So, with regards cooking ranges, this includes all cooking ranges including Rayburns and Esse and others that are burning solid fuel, oil or gas. If they are burning these fuels and are open flues, i.e., they have a chimney, they will require sweeping. Unsurprisingly I do sweep a lot of cooking ranges across the area. Admittedly, many ranges don't require the same frequency of sweeping as wood-burning stoves and open fires, particularly oil and gas appliance. What I suggest that my customers do is to ensure that the service engineer smoke tests the appliance at the end of the service. In this way they can check the draw of the chimney and if it is not satisfactory the customer can call in the sweep to clean the chimney.
I took this photograph of an Aga Cooking Range I swept recently at an address in Waltham Cross near Finchingfield. I was interested in putting this appliance in my blog as you can see from the photo it is rather an old range, that the customer has had renovated and restored to pristine condition. The customer said that he believed that this model of Aga dates from the late 1940's. I don't know whether this is true or not, but it is certainly an impressive range and a prominent, attractive feature in any kitchen.
The Aga range has had a long an interesting history, I found the following on the internet: he AGA cooker wasn't conceived in a research facility. It was dreamed up in a kitchen. Its inventor, Dr Gustaf Dalén, was a Swedish physicist blinded in a terrible accident. In 1922 he was convalescing at home when he realised his wife was using a range that was dangerous, dirty and exceptionally time consuming.  He wanted to create a cooker that was instead clean, economical to run, easy to use and which produced great food with the minimum fuss. In doing so, he invented a cooker that changed the lives of cooks the world over. The AGA was an immediate success and came to Britain in 1929. It has been at home ever since.
It was during the 1930s that Britain's love affair with the AGA really took hold. A key player in this success was David Ogilvy, who went on to found the leading advertising agency, Ogilvy & Mather. While at AGA he wrote The Theory and Practice of Selling an AGA Cooker, which has been described by Fortune magazine as 'the finest instruction manual ever written'. Amongst his gems of advice, Ogilvy suggests that a successful salesman combine 'the tenacity of a bulldog with the manners of a spaniel'.
During the war years the AGA played its part. The British government placed orders for AGA cookers for munitions works, communal feeding centres and hospitals. Demand rose steeply from families too and the waiting period for a new cooker was more than six months.
In 1947 the company began manufacturing its cookers in Shropshire, where they are still made today.
For 34 years, the AGA had been available only in cream, but in 1956 all that changed. The introduction of the new AGA De Luxe models in pale blue, pale green, grey and white proved hugely popular with AGA lovers. It was around the same time that the famous AGA chrome-plated lid domes were introduced.
The 1960s saw the first iconic black AGA lozenge logo, which is still used today. But the changes introduced during this time weren't just cosmetic – solid fuel was falling out of fashion as people wanted cleaner, more convenient energy sources. This led to the launch of oil and gas-fired AGA cookers. The 1970s saw the launch of further new colours, including black, which still proves hugely popular today.