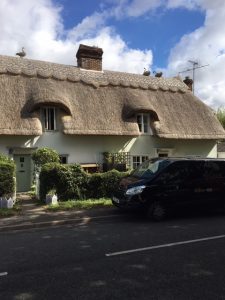 Yes, its time for some more thatched animals; here is a lamentation of swans from a house in Debden where I was working last week. The British collective noun for a group of swans, but they can also be referred to as a Bevy, which I believe is an American version? The Americans also refer to a group of swans in flight as a wedge. Either way this collection are rather beautiful and elegant sailing across this Debden roof top. The customer told me that the roof was rethatched around four years ago, and it is still looking like it was just recently done, a splendid piece of thatching I think you will agree.
The house historically was a public house; online the licensees of which can be found dating from 1832, a John Mansfield right through to 1899 when the licensee was a William James Tannt. It was named the Ship or Old Ship whilst it was operating as a public house, although it would appear to have been private dwellings for some time now – search: https://pubwiki.co.uk/EssexPubs/Debden/ship.shtml
The building is now divided into two cottages and is Grade two listed. As you can see the heating appliance is a rather magnificent Clearview 750 Multi-Fuel stove, which the customer reports being more than adequate for his requirements. There are some photo's of me cleaning the flue. I have had a quick look at poems about Swans, and here are some of the ones I liked best:
The Swan – S. F. Flint
Under the lily shadow
and the gold
and the blue and mauve
that the whin and the lilac
pour down on the water,
the fishes quiver.
Over the green cold leaves
and the rippled silver
and the tarnished copper
of its neck and beak,
toward the deep black water
beneath the arches,
the swan floats slowly.
Into the dark of the arch the swan floats
and into the black depth of my sorrow
it bears a white rose of flame.
Graceful Swan by Elegantni Lebed
On Vltava waters
I saw a Graceful Swan,
Peaceful and modest
Full of quiet confidence
She looked like a Fawn
I fall in love with her
From thousand miles away,
Frightened of thoughts
My crazy mind created
Swan spread her wings
To save me from darkness
I was one step away from jumping,
She embraced my sadness
And it felt like a heaven
Invited me to her secure haven
She patiently waited
Playing down her strength
Showing me a way to the calmness I crave
Above Vltava flow
In my mind I see
Gorgeous Swan dances
Twosome with Firebird