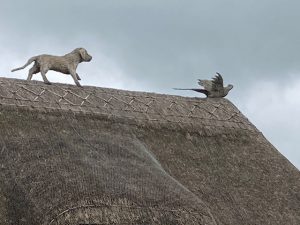 It's a while since I had a thatched animal for my weekly blog, and I saw this pair in Balsham where I was working last Saturday. This dog and duck immediately made me think of mine and Claire's drinking days at the Dog & Duck pub in Stanstead – A nice pint of Greene King Abbot Ale, you can't beat it! I'm guessing the dog here is a Labrador, certainly a gun dog? I think that this pair of thatched animals are quite the most well executed pair of thatched statues that I have ever seen. I think you will admit how well modelled they are, with so much detail. The wings of the duck make it look like it is just about to take flight and there is real movement in the dogs legs.
I have actually found a dog & duck poem on the internet:
Dog & Duck by Derek Davis
a dog and duck were pondering
at their worlds plight
of who was wrong
and who was right
duck said you stay on the left bank
and i will stay on the right
but dog wasn't happy
and started a fight
so duck flew above her
and dropped from a great height
and dog caved in
she could be very bright
she held out a paw
to duck her only friend
she said come on mate
let's do make amends
so dog and duck agreed
they both had to share
both had the same need
and both had to care
a moral of the story
is dogs don't mess with ducks
remember your training
else you will come unstuck
there world is happy again
be it only for a day
people can be like this
not in affray
but it does take a dog and duck
to show them the way !