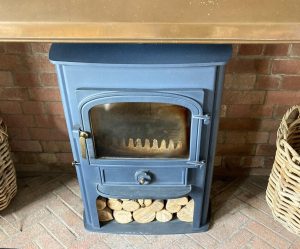 I wanted to continue the weekly blog by talking about rare or unusual stoves that I come across whilst doing my rounds, however this week is a slight departure from that in some ways, as I'm going to talk about a couple of Clearview Stoves I came across at an address in Waltham Cross. What's so unusual about a couple of Clearview Stoves I hear you say! Well Yes, I probably see more Clearview stoves than anything else as they are so popular. I certainly see more Clearview's and Stovax Stockton's than any other stove makes, but these two Clearview's I will mention today are as you will see, rather out of the ordinary.
These two stoves as you can see from the photographs are a Clearview Pioneer 400 Oven Multi-Fuel Stove and a Clearview Solution 500 Multi-Fuel Stove in gun metal blue finish. They are both unusual, the Clearview Solution 500 Multi-Fuel Stove for its unusual but attractive gun metal blue finish. I have not seen this in a Clearview stove before, so I'm wondering whether this was a short-lived model that they once made and is now no longer available? The Clearview Pioneer 300 Oven Multi-Fuel Stove is unusual as you just don't see these about, in fact I have only ever seen one other Clearview baker stove and that was a Pioneer at an address in Newport. So, there we have it, two unusual but attractive Clearview stoves for this week's blog!
I do like the Clearview range of stoves; they are simple to work on and the majority of customers who have them say they are very efficient at burning and easy to operate and maintain. Clearview have been making stoves since 1987 and are based in Bishops castle in Shropshire. They have a spectacular show room in an old stately home Dinham House (See Photo) in Ludlow, where there is the full range of Clearview Stoves displayed in rooms, with many of the stoves in operation.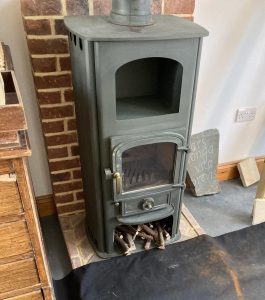 Clearview Stoves
More Works,
Bishops Castle,
Shropshire SY9 5GB
01588 650401
Dinham House,
Ludlow,
Shropshire SY8 1EJ
01584 878100
https://www.clearviewstoves.com/