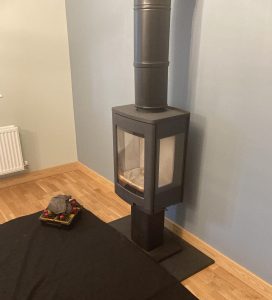 Although I have been sweeping the flue to this Nordpeis Uno 1 Wood-Burning stove for the past few years now, I thought that it definitely falls into the category of unusual stoves. Surprisingly I do sweep a number of other examples of this model of stove and other models of Nordpeis stoves in the area. The Nordpeis Uno 1 does have a very definite space age appearance, a most contemporary type of stove. The stoves firebricks are ceramic and are prone to cracking and fit together inside the stove rather like a jigsaw. In this instance I had to replace the front firebrick which is held in place by a long metal clip at the front of the stove.
A Google search reveals that Nordpeis are based in Norway and were established 30 years ago.
https://www.nordpeis.co.uk/about/
It would appear that Nordpeis are sold in the UK are part of the Stovax Stove Company and are sold through approved retailers.
Stovax Limited,
Falcon Road,
Sowton,
Industrial Estate,
Exeter EX2 7LF
T: 01392 474000