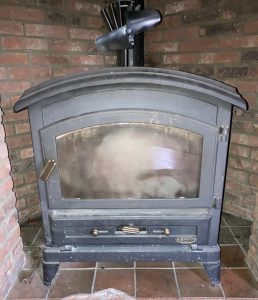 Yes, you don't see many of these Godin stoves around, they are quite rare! Many people actually go over to France to buy these retro stoves. A lot of the ones I see and have included in my blog have a coloured enamel finish to them and are frequently very ornate. This one however has a more traditional matt black finish, like the majority of stoves, I will keep a lookout for any more unusual stoves that I might come across, which I can then include in my blog!
The Godin stove is the foundational of the history of French stove making, and indeed to the history of domestic stove manufacturing as a whole. Before the era of cast iron, domestic fuel took on many forms from the open hearth fire to the clay or stone kiln, but then the 23 year Godin started his business in 1840 making fireplaces in a shed in the centre of Thierache with a loan of about 4,000 francs from his parent, this quickly became too small.
The works soon moved to Guise where he started employing 30 people and in spite of fierce competition his business grew rapidly. The most important reason for this was his innovation. Godin applied for many patents for his products and concentrated on continually improving them both aesthetically and technically, making antique stoves from his era especially valuable.
Godin became a figure to know in French industrial relations. Godin offered his employees living wages or higher at a time of economic downturn, hired from a small pool of people in one geographical area reducing turn over and improving employee reliability.
By the end of the 1900's, with a further 2000 employees, Godin was dominating the European stove market. Stove designs became ornate and stylised with the advent of the 20th century and the Art Nouveau and Art Deco movements. Godin's stove design in this period did not become as elaborate and decorative as some other companies, such as Deville and Rosières, etc. But the stoves they produced in the early 20th century were, as always with Godin, extremely efficient and featured superb quality enamelling. Some of these original designs are still in production in the Godin factory today, laying testament to their design and efficiency.