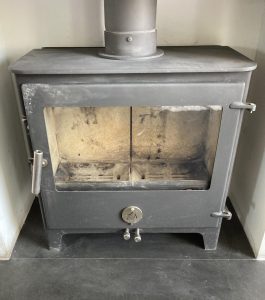 Just like its name this is a chubby workman like stove, the Chili Penguin Chubby 5 Multi-Fuel Stove. I recently Swept this example in an address in Clare where it was installed by Cut Maple Stoves of Sturma/New England. They always make an excellent job of all their installs as can be seen in the photographs. I actually sweep quite a few Chili Penguin stoves across the local area, most of which have been installed by Cut Maple Stoves, however the majority of them tend to be of the baker type of stove, and this is the first example of the Chili Penguin Chubby 5 that I have swept. It was a great stove to work on and was very easy to dismantle to access the flue, much in the same way that many Dean Forge stoves are simple to dismantle. The customer was very pleased with the stove, and it is easy to see why as the stove has quite a large firebox for a 5Kw stove and throws out plenty of heat when in operation.
I must admit that Chilli Penguin is a rather unusual name for a stove company, but they do have a very attractive range of stoves, which include: The Chilli Billie, The Short Penguin, The Chubby 5, The Hungry Penguin and the Hungry Penguin Tall, The Fat Penguin, The High & Mighty, The High & Mighty tall, The Stock Cube, The Fusby, The Woody, The Penguin 7, The Seventy Ate 78 and the Penguin Idris 7Kw.
Chilli Penguin are a small family run business located near the stunning coastline of the Llŷn Peninsula in North Wales. What inspires and excites us is beautiful, functional design. We love things that look amazing and perform brilliantly. We love fire and steel. We love the idea of stoves, objects that warm homes and lives, that can be fueled by a renewable resource like trees. We want our stoves to burn as efficiently and cleanly as possible, a number of our stoves are already Ecodesign compliant.
Chilli Penguin Showroom
10 Glan y Don Industrial estate
Pwllheli
Gwynedd
LL53 5YT
https://chillipenguin.co.uk/about/about-us/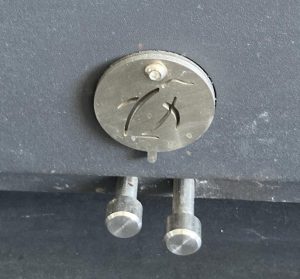 This stove was installed by Cut Maple Stoves in Sturmer/New England:
Cut Maple Stove & Fire Company,
Sturmer Road,
New England,
Halstead CO9 4BB
Telephone: 01440 788788
Email: cutmaple@fireplacesetc.co.uk
Website: http://www.fireplacesetc.co.uk