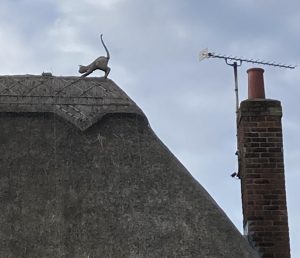 I realized this week that I had not had a thatched animal blog for some time when I saw on the roof of a house we were working in this thatched cat and mouse. Yes, the people living in the house did have a cat! I have seen thatched cats on rooves before, but not a cat and a mouse before.
Here is a famous Cat and mouse poem by Ted Hughes
Cat and Mouse
On the sheep-cropped summit, under hot sun,
The mouse crouched, staring out the chance
It dared not take.
Time and a world
Too old to alter, the five mile prospect—
Woods, villages, farms hummed its heat-heavy
Stupor of life.
Whether to two
Feet or four, how are prayers contracted!
Whether in God's eye or the eye of a cat.