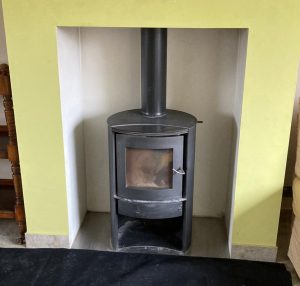 For this week's blog, here is a rather unusual stove that comes all the way from Chile in South America, a Bosca Firepoint 360 Multi-Fuel Stove. I recently came across this stove in a house in Stoke-By-Clare and just had to put it in my blog as I had not come across one of these before. It was not the easiest stove to work on, as to access the flue I had to unbolt the baffle, all ways a trick process inside a stove as there was little room to move the socket and the bolts do tend to get baked into the stove. I managed it though with the assistance of a little WD40!
Reading the label affixed to the bottom of the stove it would appear that at the time the stove was installed, Bosca Stoves were imported into the UK by Yeoman Stoves. This is still the case, a Google search of Yeomans website revealed – https://www.yeomanstoves.co.uk/special-promotion-bosca-bonus-continues/
With three different Bosca stoves being offered to the UK maket, the Bosca Limit 350, the Limit 350S and the Limit 380 a 7Kw rated stove.