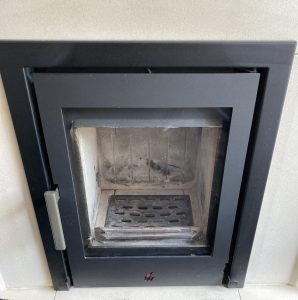 Although I sweep a large number of ACR stoves across the local area, the vast majority of them are freestanding stoves. I can't remember ever coming across an ACR cassette stove, so I have decided to focus this week's blog on this ACR T400 Eco Multi-Fuel Cassette Stove that I Swept recently at an address in Linton. I find that most of the ACR stove range are slightly more tricky than other stoves to dismantle, although this is not every model, but on the whole the majority of internal components usually have to be removed from the stove before the flue can be accessed. The ACR T400 Eco Multi-Fuel Cassette Stove is no exception. This said it is a tidy little Cassette Stove and in the right setting they can be space saving and rather attractive. Even though the stove is relatively small, and situated in a rather large sitting room, the customer told me that it heats the room more than adequately.
ACR's website is not particularly informative and gives little information about the company and distributes its stoves via dealerships. The following information can be found on the website:
ACR Heat Products have designed their own range of multifuel, gas & electric stoves using their knowledge of 35 years in the industry. The majority of our stoves are supplied with a 125mm diameter flue spigot to suit the requirements of the UK. Every woodburning and multifuel model is smoke exempt allowing you to burn wood in smoke controlled areas. They are all EcoDesign Ready meaning you are investing in some of the cleanest, most efficient, low carbon stoves to provide you with sustainable heat. Designed in the UK, ACR Stoves are a family firm.
https://www.acrheatproducts.com/stove/acr-stoves