Time for another thatched animals' picture, I've not had one on the blog for sometime now! This time it's running hares as opposed to the boxing hares I've posted previously. This picture was taken on a thatched cottage's roof between Finchingfield and Stambourne; so very much a local thatchamals picture.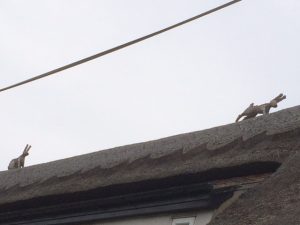 I have also found an appropriate seasonal poem about hares:
A Calendar of Hares by Anna Crowe
At the raw end of winter
the mountain is half snow, half
dun grass. Only when snow
moves does it become a hare.
If you can catch a hare
and look into its eye
you will see the whole world.
That day in March
watching two hares boxing
at the field's edge, she felt
the child quicken.
It is certain Midas never saw a hare
or he would not have lusted after gold.
When the buzzard wheels
like a slow kite overhead
the hare pays out the string.
The man who tells you
he has thought of everything
has forgotten the hare.
The hare's form, warm yet empty.
Stumbling upon it he felt his heart
lurch and race beneath his ribs.
Beset by fears, she became
the hare who hears
the mowers' voices grow louder.
Light as the moon's path over the sea
the run of the hare over the land.
The birchwood a dapple
of fallen gold: a carved hare
lies in a Pictish hoard.
Waking to the cry of a hare
she ran and found the child sleeping.
November stiffens
into December: hare and grass
have grown a thick coat of frost.