Well back to Chimney Sweeping this week instead of talking about the puppies; all of whom are doing well by the way. So, one of the things I have been up to this week has been to repair a Multi-fuel stove in Debden Green. This was a repair for one of my nicest regular customers and was important because the stove was responsible for heating the homes hot water. It was great however to help sorting something out for a loyal customer.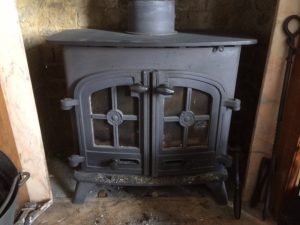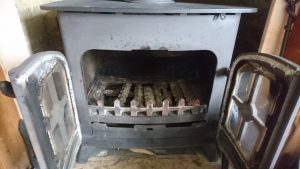 All this said, it was far from a straight forward repair as one of the things that required replacing was the grate bars. Unfortunately, although it was clearly a Yeoman stove, the customer did not know the model and no longer had the stoves purchase documentation. To get around this problem I took a number of photographs of the stove and measured the dimensions of the stove, including the required damaged components.
I then contacted a fantastic company called 'Fire Spares', Unit 4 Park Springs, Springvale Road, Grimethorpe, Barnsley S72 7BQ – Phone:  01226 715 100 Fax:  01226 715 800 Email:  info@firespares.co.uk Website:  www.firespares.co.uk – and then forwarded all the information to them. Within a short time they had identified the stove as a Yeoman Devon 50HB Multi-Fuel Stove and had ordered the requested parts. The best news was that they gave me a 15% trade discount because of my membership of the Guild of Master Sweeps. Within a week they had received and dispatched to me the parts; all I had to do was to attend the customers address and fit them. As I have said the customer was one of my best and most loyal clients, so in view of this I only charged her the cost of the parts to me plus £10 for supplying and fitting them, which seemed to be most satisfied with, which was nice!