I very recently found this bird of prey up a large inglenook chimney in a thatched property at Tindon End. Looking at the colouring and plumage of the bird, I think it was a Kestral, but I could be wrong, I'm no ornithologist! As can be seen in the photo the bird was brown and mottled black on its top surface and had black wing tips. What I couldn't understand was why having got into the chimney the bird didn't just simply fly out again. The chimney was very large all the way up, about 6' x 4' and wasn't particularly tall at about seven and a half metres. I found the poor thing just lying on top of the register plate close to one of the inspection hatches. I imagine that it must have been ill or injured and had flown into the chimney for safety and simply died there; but this is merely speculation on my behalf.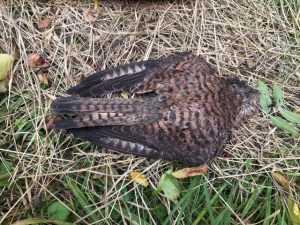 A search of the internet reveals a number of strange things found up chimneys, some of which are humorous, interesting and even lucrative!
Cash
In the UK, police found £871,495 up the chimney stack in the Bradford home of Baber Bashir, a conman who had acquired his ill-gotten gains largely through an unspecified fraud. Found tucked in his chimney, the cash amounted to just around $1.5 million USD by today's standards, making it easily the most valuable chimney in Bradford. That is, before all the money was confiscated by the police and Mr. Bashir and company were locked up for their crimes.
Birds
Researchers at Queen's University in Kingston, Ontario made a strange discovery in a decommissioned Chimney in a campus building – over fifty years' worth of bird droppings. Researchers dug in (literally) and found that the bird droppings showed sharp decreases in beetles in the diet of insect-eating birds that frequented the chimney. The dramatic decline of the beetle population was due to the use of the infamous chemical DDT, which the beetles were especially susceptible to.  This, in turn, lead to a decrease of the population of the swifts that used the chimney, further damaging the already notorious reputation of the DDT compound.
Cats & Shoes
On the other side of the world in Australia, you might not be too surprised to find a dead cat or a shoe inside your chimney. Reason being, early Australian settlers were very superstitious, and often would hide either a shoe or, in some more morbid cases, a dead cat inside their chimneys. The practice is believed to have come to Australia by way Britain from an ancient Roman practice to ward off evil spirits. Homeowners put these totems in parts of their homes where evil spirits might lurk.
A Burglar
Believe it or not, Santa can serve as an inspiration for more than just altruism. In Georgia, an Atlanta area teen took a page out of the red-suited man's book when he tried to burglarize a home by slipping through the chimney. After spending ten hours overnight trapped in the flue, he finally cried for help and caught the attention of a neighbor who called the police. After getting pulled from the flue, he went from out of the fire and into the frying pan as he was immediately arrested. To add fuel to the flames, the would-be-burglar made another poor choice by providing police with a false name when they arrested him, really putting him in 'hot water'.
A Letter to Santa Written in 1912
On a lighter note on the Santa side of things, a Dublin, Ireland man found a note to Santa when cleaning his fireplace; but not just any note. This note, believed to be penned by Hannah and Alfred Howard, somehow survived 100 years on a shelf on the inside of the fireplace. Despite constant use of the fireplace throughout that entire time, the letter has only a small amount of burn damage and is in remarkably good condition. Featuring a detailed, if terse, list of toys and treats the two children desired, it ends with a friendly 'Good Luck', and has a few illustrations to go along with it.
A Dead Body
There's no shortage of bodies found in chimneys, as they seem to make a good hiding place for less-savory characters, but this particular body has a pretty interesting history behind it. Joseph Schexnider, a former National Guard serviceman, was due to appear in court in 1984, an appearance that he never made. Known in his family for frequently skipping town, they thought little of it. For twenty-seven years, they presumed that he was on the lamb from charges of possession of a stolen vehicle. Then, in May of 2011, the local bank began renovating it's second floor, previously used only as storage space. Inside the chimney they discovered Joseph's remains. He hadn't suffered any broken bones or apparent trauma, so investigators ruled the death accidental.