Back by popular demand is an update on the puppies progress, and they are all doing very well and thriving. In fact, I just can't believe how much all four of them have grown in just over two weeks. All four of them now have their eyes open and are beginning to use all four legs to crawl about; it won't be long now before they are up and about walking everywhere. They are all feeding very greedily at the moment (poor Millie the mum), and if they are not feeding, they spend the remainder of the time clumped together in one way or another fast asleep.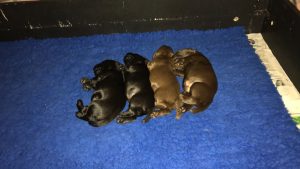 We have continued to weigh them every day, and as you can see since my last post, they have all gained a significant amount of weight:
Pip (Bitch, Black) – 1053g
Widdle (Dog, Black) – 942g
Stanley (Dog, Brown) – 1130g
Roger (Dog, Brown) – 1024g
Millie the mum is also doing well and continues to be an excellent mother; being kind and attentive to her pups all the time.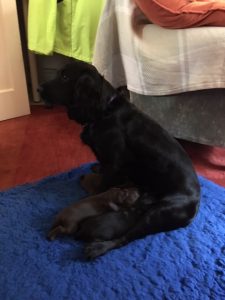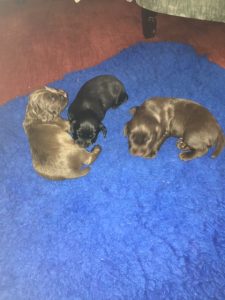 I hope you all like the photos, I think that there is some synchronized sleeping going on in one of them?